Review by Ken Campbell
C-Date.com is one of those ever-popular online dating sites that cater to the concept of casual dating, the type that comes up when you're looking for the best casual dating sites out there. C-Date seems to be a British site that aims to connect casual singles with each other. I couldn't find out for sure what the "C" in C-Date stood for. I presume that they intended it to stand for "Casual". From my experience I'm starting to think that the "C" in fact stands for "Crap".

The most concise thing that I can say about C-Date is that it was a phenomenal waste of time and money. I don't really know any other way of saying this more concisely, but if there's any piece of advice that I can convey to you in this review, it would be: Stay away from this site! It is a SCAM! They come across as a legit dating site which is designed to facilitate meetings with other singles interested in casual dating and in reality it is anything but that. It is a big empty site that makes it really difficult to meet other members, if they even really exist, and then when you've finally figured out that you've just wasted a ton of money and time on this site for nothing, they make it so difficult to quit that you're almost better off closing your bank accounts and declaring bankruptcy in order to get rid of them.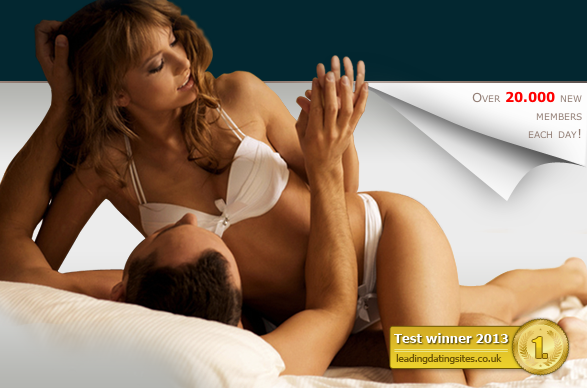 So upon first entering C-Date, you see this delightful splash page which shows this sexy couple getting a little randy, naturally something you're probably interested in which is why you're here. It does advertise a good review from LeadingDatingSites.co.uk which as far as I can tell might be a scam as well. Also it boasts an outrageous tally of 20,000 new members each day, which after crunching a few numbers should be about 43.8 million members since the site's inception in 2008, or approximately 70% of the population of the entire UK. Good thing they operate internationally.
So I sign up for a promising C-Date experience. Setting up the profile is relatively simple. Like you'd expect , they ask you some basic vital-statistics about yourself and what type of partner you're looking for, your standard dating site questions. One unique aspect of the setup is they just give you a bunch of ambiguous pictures to choose from when it comes to listing your date preferences.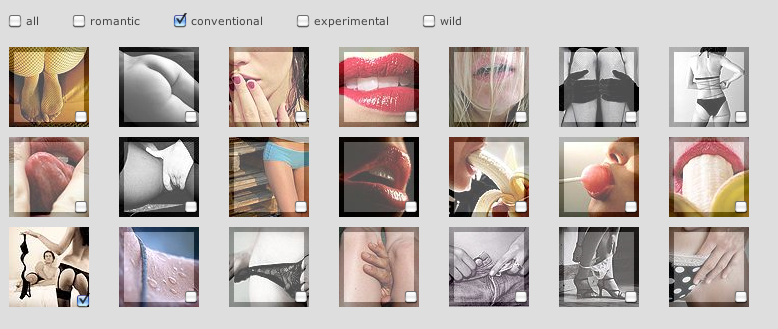 I'd like my date to have lips, but not bite them, and I'd her to pull off her panties, but from the side and not from the front, and she definitely cannot pull her panties off around her ankles. That would be a deal-breaker. She can eat bananas, but not lollipops, and she daren't have wet shoulders or hair falling in front of her face. I'm all for trying something different with this setup, but let's face it, these pictures mean nothing and prove to be useless.
Alright, I'm in! I have an account with C-Date and I'm ready to meet some hot singles for casual sex! Not so fast. In spite of the fact that they advertise free sign-up, there's literally nothing that you can do on this site until you purchase a membership, and they don't come cheap! There aren't any member profiles available to browse or even testimonials to help convince you that a membership would be a good idea. Basically all I see is my own profile: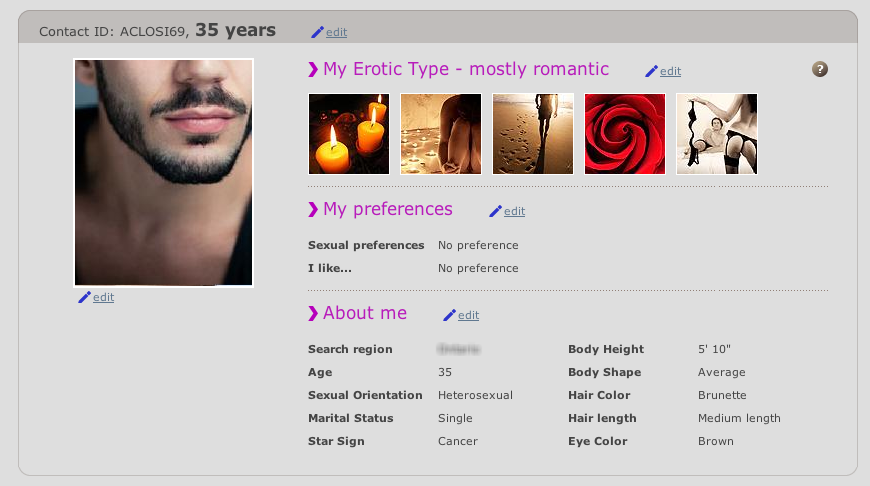 And a nice message that tells me this:

How do I know that C-Date even has other members? What about the other 19,999 members that joined the same day as me? Alright C-Date, if you insist on a premium membership I'll sign up. I'm not one to simply dip my feet in the pool. If you're really all that, then we should see some results! More on the costs of membership in a moment, but just to compare, here's what became available to me once I did actually sign up:

One solitary match. With a blurry photo and some sort of code name. So it turns out that C-Date, in spite of it's casual dating claims, works more like a matchmaking site where they will pair you up with someone else in your area who has similar sexual tastes based on both of your profiles. I see the advantages of the matchmaking style, in that you're trusting the site's algorithm or webmaster to find you a perfect partner, but as far as casual dating goes, it's awfully strange. And that's not even taking into account the scarcity of members that seem to be available. Maybe the major North American city with a population of 2.6 million just isn't large enough to have more than one other member of this site. All the other millions of members must be in China.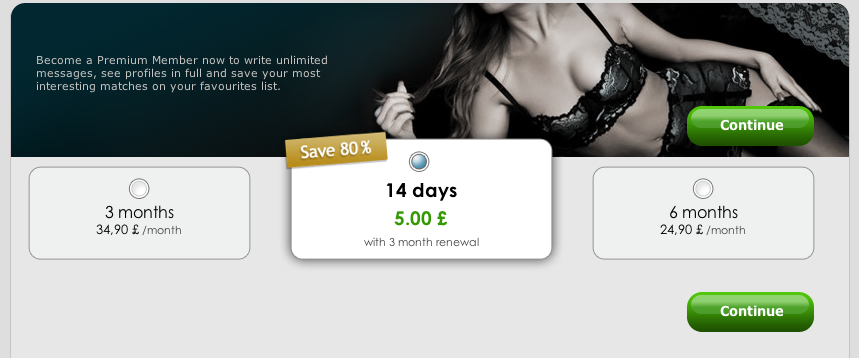 Now let me tell you the outrageous cost of this site, not to mention the gigantic headache that comes as a bonus once you sign up. Even though you're probably on this site for some quick and casual sex, you have to sign up for at least 3 months, which is US dollars comes to about $160 with today's exchange rate. They do have that little bonus of 14 days for the equivalent of $8, which compared to any other casual dating site out there appears to be a great deal, until you read the fine print and see that only comes with a 3 month membership. Why they even offer the 3 month deal without the 14 day promotion is beyond me. Maybe they're hoping to get some sales from people's cats with access to their owners credit cards or the completely illiterate.
[ws_table id="19"]
Well after spending a whopping $160 for one solitary match, I start to think that C-Date might be a giant scam and I start looking for ways to get out of this site. Of course, like any scam, here's where my trouble really began. They make the cancellation process sound really easy in their FAQ, just go to Profile, Settings, and click on Delete. Sounds easy? Well what actually happens is that then they email you an 8 to 10 digit code and a form that you have to fill out and then fax (!) to them. How, in the year 2013, when all other aspects of commerce can be done entirely online, not to mention every aspect of this site, do you need to send a fax (an international fax in my case as well) in order to do something so seemingly simple as canceling an account. So I deal with the convoluted cancelation process, and still I have to call and email numerous times just to finally make sure that my account has been cancelled. Casual dating is supposed to be relaxed and easy, it's implied in the very name. How then can a site like C-Date exist that pretty much ruins any of the pleasure of casual dating even exist is beyond me.
Pros
Okay, maybe I'm not being fair to C-Date. What can I say that's good about this site? They claim to have a well-balanced proportion of male to female members, which should maximize the likelihood of finding a match, unless that proportion is each less than ten. They do offer what they call a contact guarantee, except you have to read the entire FAQ to find that out. Basically they say that with a 3 month membership you should have a minimum of 5 contact proposals, 15 for a 6 month membership, and 30 for a 12 month membership. These are simply proposals, however. There's no guarantee of actually meeting these people or any promise of sex. Also there's no explanation of what you'll actually get back if the guarantee is not fulfilled.
Cons
What else is there to say about this that hasn't been said? C-Date.com is your textbook definition of what you'd expect from an online dating scam. There's virtually nothing you can do before signing up for a very expensive membership. Even with a membership, you cannot browse other profiles yourself. You're stuck to having the site pair you up with the remarkably few other members available on the site. When you try to get the hell out and cancel your membership, you're stuck in a giant headache of mess which they obviously have set up to make it as difficult as possible to keep you there and paying for as long as possible.
So what should you do with C-Date.com? Avoid it at all costs. This is one of the worst casual dating sites that I've seen around, and I've seen quite a few.
Click here to visit C-Date.com.