Review by Ken Campbell
Since I've been focussing more and more on casual dating in the world of online dating, CasualDates.com seemed like a no-brainer to try out and review. Boy was I disappointed!

First of all, they advertise how the sign-up is completely free, and even though that is technically correct (I didn't have to give my credit card information out before I signed up), just about everything else on this site costs dough and they're not subtle about asking for it the second after you sign up!

Even without setting up an account, it looked like I was already super-popular on the site. And that was even before I uploaded a picture. Beautiful looking girls were trying to chat with me and send me emails! They were all local, all gorgeous, and all available right now! There were so many of them, texting me non-stop and I hadn't even completed my profile! What could go wrong? Well first of all, I had absolutely no way of communicating with any of these girls until I bought myself a membership, so I figured I might as well dive right in and buy myself one and see what happens.
[ws_table id="18"]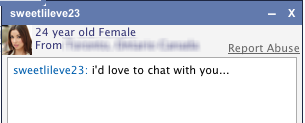 I figured that I'd start with the basic membership, for a mere $2.97, although they do say that they'll start charging me $39.95 per month right after that, and these sites can be notoriously difficult to cancel subscriptions. Anyhow, pretty much right after I bought the subscription, all of those gorgeous girls that were trying to contact me magically vanished! Wouldn't they be super-excited that I finally had a working account and that I was ready to set up a date with them? Of course I was the subject of a classic dating site bait-and-switch mechanism. Before you have a working account, it looks like there are loads of available singles on the site, and then once you've fallen for the trap and bought yourself a subscription, then you're left with who is really on the site and that can often be sorely disappointing.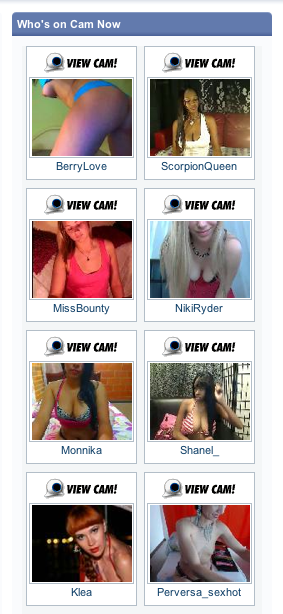 CasualDates.com does appear to have some hot girls on the site, but once you weed out the obviously fake profiles, the prostitutes, and the totally butt-ugly girls, you're left with paltry few options. Naturally the few real girls on the site must get so bombarded with responses from men that they probably never bother to check their email anymore since they must have so much interest from the dudes on this site. In spite of what this site claims to be, once you peer inside it, it's pretty obviously a sausage fest. I did my best to get some dates out of it, and emailed just about every girl I could find in my area (just like every other guy is probably doing). After writing about 300 emails, I got about 25 real responses which amounted to not a single solitary date!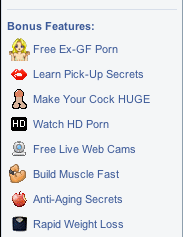 Not only are all of the members that CasualDates.com advertises non-existent, but the site is packed with porn ads. There's a little sidebar of "extra features" that at first glance seems like they might be some great resources, but they turn out to be a bunch of spammy links to other porn sites. This site is obviously set up to be a scam, where they'll lure you in with a lot of hot girls who only want to hook up with you and all of a sudden disappear as soon as you buckle down and buy a membership. From then on you pretty much just have all of the porn links to satisfy you something you could easily have found for free after about 10 seconds of Google searching.
The Pros
I don't mean to go on and on about how terrible this site was. Admittedly there are some good features. Setting up a profile was pretty simple and the site was relatively streamlined once I got that set up. As a suggestion, it would go smoother if I could have filled out my profile after I was already signed up. Instead I had to fill in long fields about who I was and who I was looking for in a date, a practice which feels like an anathema to the principles of casual dating, which you'd think that a site like this would promote.
They do have a sort of guarantee in that if you purchase a Gold Membership, you have what they call a "3 Month Hook-Up Guarantee" in that if you don't hook up in 3 months, you'll get another 3 months on the site for free. So even though you'll likely have pretty little success with getting a date here, they can waste your time for another 3 months on the site so that you still won't get a date. More than likely, in that free 3 months you'll forget that you still have an account with this site and when the period is up they'll start billing your credit card again and it'll come as a bad shock.
Also, even with my free account I had an email account set up (even though I couldn't email any women until I bought a subscription) which had a very useful email about avoiding scams and identity theft while dating online. Being a bit of an online dating guru myself I was well aware of these types of warnings, but to someone new to this world it did have quite a bit of good information that might help one avoid getting into a potentially dangerous scenario. Maybe the warning email should have suggested not wasting your money on this site.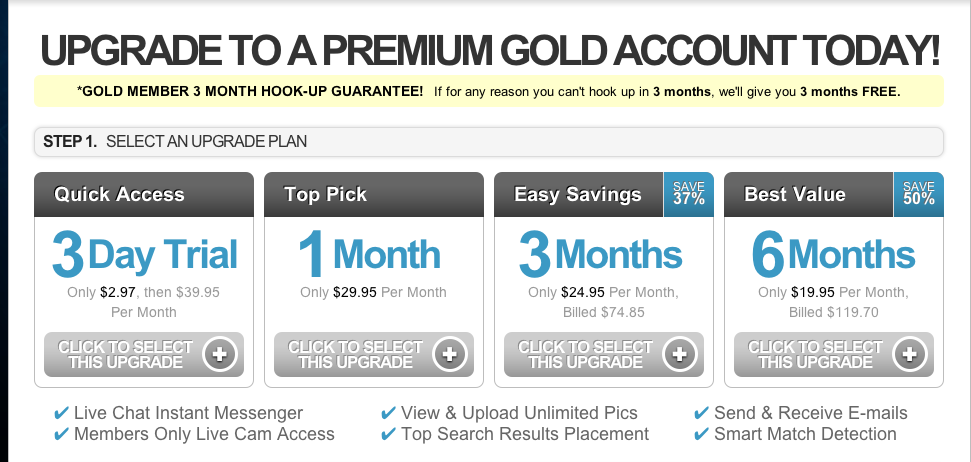 The Cons
I realize that most of this review is filled with cons (even the pros section above), but I'll try to come with some more straight-up cons for this section. Basically CasualDates.com is one rather well designed scam. Either that or it's one pretty poorly constructed dating site. I don't know which is worse. I can say with quite a bit of confidence that CasualDates.com is not worth it for really any reason. There's lots of decent casual dating sites out there, many of which come highly recommended. I wouldn't waste your time with CasualDates.com if you can help it. By emphasizing that they're all about the "casual date" they think that they can corner the market on the casual dating scene. Ultimately they're just going to make a lot of disappointed daters out there.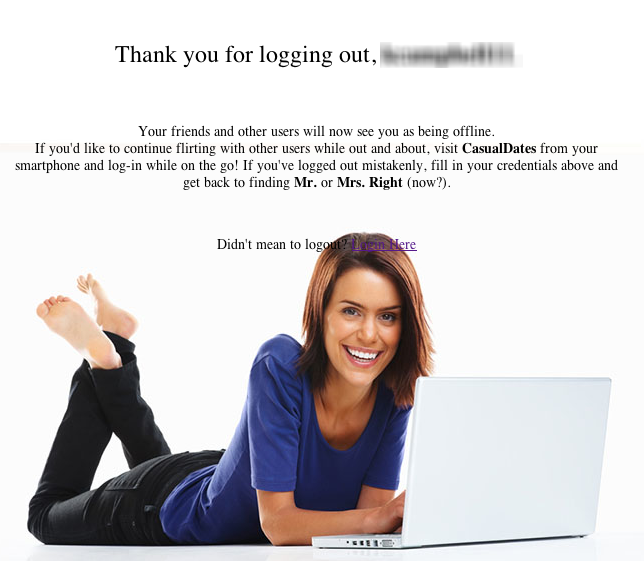 This was the best screen from CasualDates.com in my entire experience on the site.