Review by Ken Campbell
EroticSearch is a site that prides itself on being as straight forward as possible. Exactly like the name says, EroticSearch is there for those online daters who are looking to search for erotic dating with men, women, couples, gays and lesbians.
[ws_table id="2"]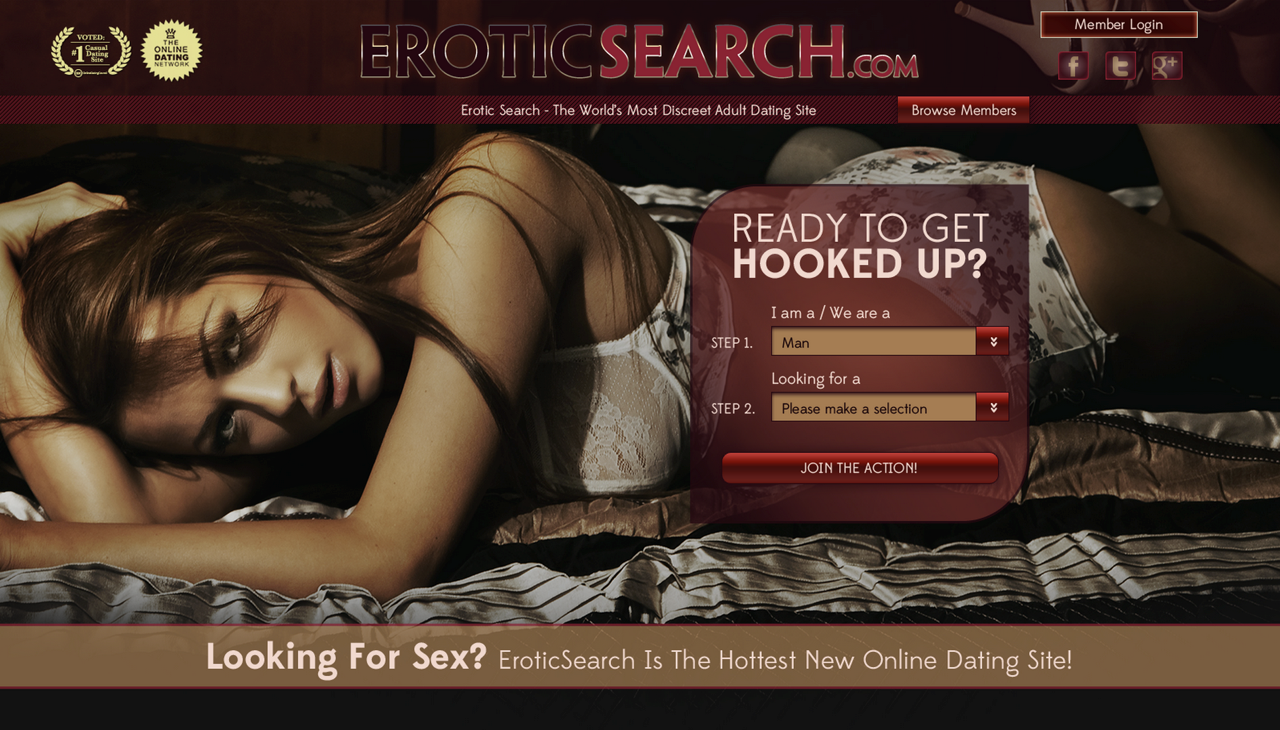 Whether you're searching for casual dating, casual sex, a one night stand or swinger's events, you can find all of these things on EroticSearch. This is a new site with a new and fresh interface and let's not forget a new brunette hottie that will lead you through the sign up process.
This site is good for those who want to have fun while dating. Clearly they don't take themselves too seriously; just look at the homepage. There is a picture of a priest and a twink that represents the "gay" couple!
As you sign up for this site and reveal what type of person you're interested in and what type of sexual interests you have, you're lead to believe that the members on this site are of high caliber, but too be honest with sites like this, the members are usually completely average.
Not saying that average is a bad thing, just letting you all know this information before you hand over your credit card number.
On that note, you are able to sign up for EroticSearch for free, but you wont be able to take advantage of many of the features offered on this site unless you upgrade your membership by paying.
Once you upgrade your membership you are able to take advantage of the features which are essentially pretty basic. This can be a good or bad thing, all depending on what you're looking for. I tend to prefer a more basic site, because it's easier to navigate.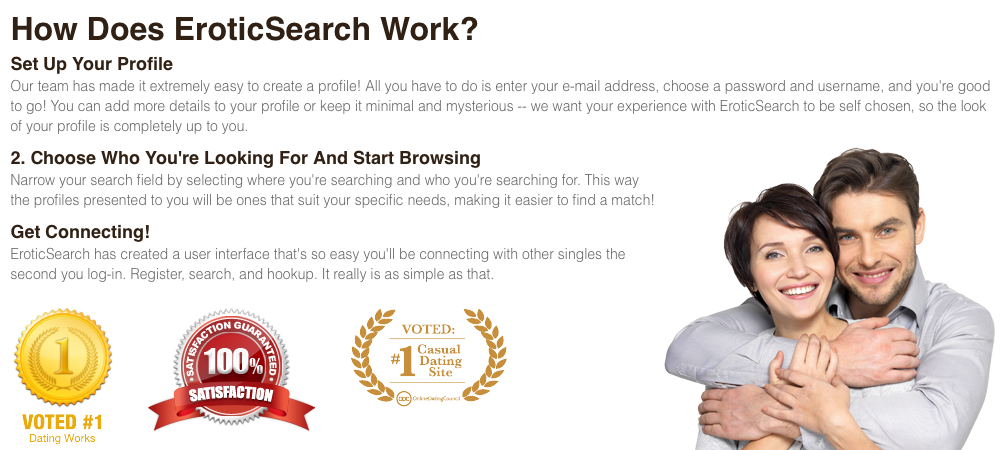 Members are able to upload a video profile. This allows members to really see what someone is all about before meeting them in person. This is definitely one of my favorite features of this site because it eliminates a lot of the bull shit that comes along with online dating.
You can initiate contact with other members also through instant message, email and chat rooms.
EroticSearch is available through a mobile dating app.
Features:
A significantly growing database with thousands of new members joining on a weekly basis.
Free to sign up.
Must upgrade membership to access most features.
Able to upload a video profile.
Initiate contact with other members via instant message, internal email, video chat and chat rooms.
See who's online, when a member was last online, and who has viewed your profile.
Search for members through a basic search or advanced search.
Take advantage of other features including XXX movies, Dating Advice, Erotic Stories, Sexboosters, and Swinger Clubs.
Available via mobile.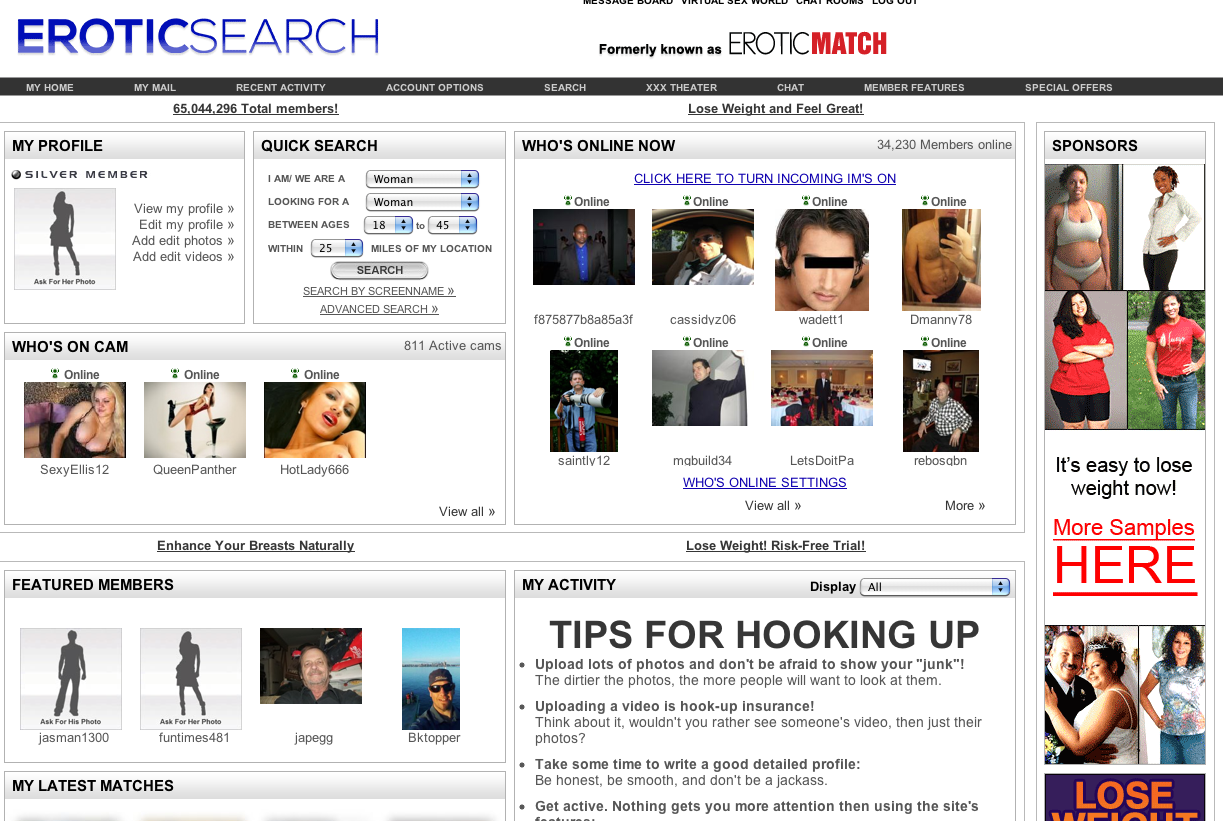 Signing Up:
You can sign up for free.
It's fun and easy to sign up.
A gorgeous woman leads you through the process and you essentially choose what type of hook up you're looking for.
Safety and Security:
A FAQ page is available that will help you with most concerns and questions.
You can further your inquires with customer support which is available 24/7.
Absolutely no information about your identity will be revealed unless you do so.
Things We Love:
The fact that Erotic Search is not about playing games or want no funny business. If you're looking to hook up and you want to have sex, then you are using the perfect site, because all of the members are on the same page.
The Video Profile option allows you to really see what a member is all about because physical attributes and body language are some aspects that a profile picture cannot convey. This way you can determine right then and there if you have a physical attraction for the person, and if you don't, there is no point in taking the relationship offline.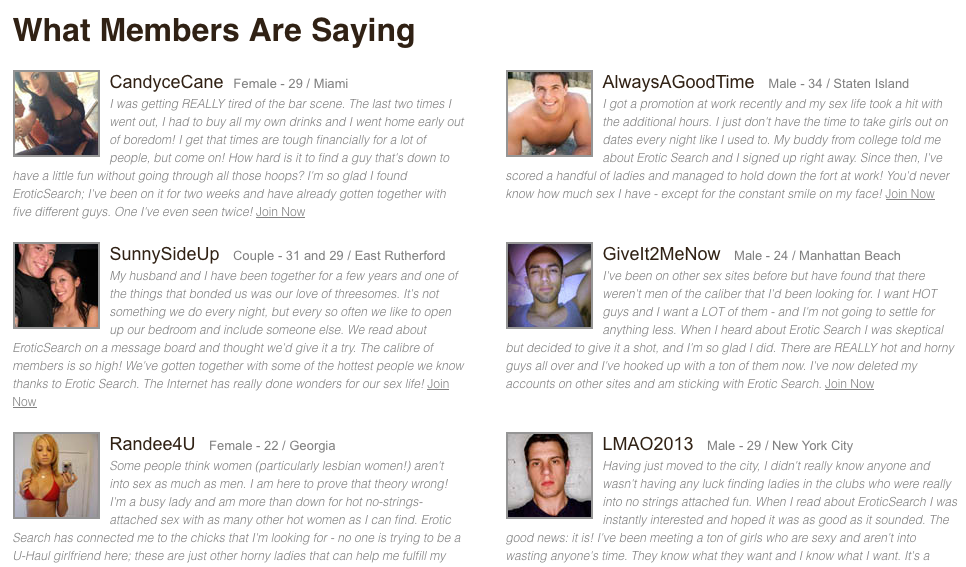 To sign up for EroticSearch.com, click here!
To read more online dating site reviews, click here.