Review by Ken Campbell
If you are looking for a an easy way to meet local singles to hook up with, no strings attached, then your definitely on the right track by researching adult dating sites to see which ones are legit and which ones will be a waste of your time.   I've recently sign up for Justhookup.com and it was a total breeze signing up. I had to fill in a bit of information about myself but it was completely minimal and once I handed over my email address I was immediately taken to a page where I was told I could get a discount at that moment, but at that moment only. I decided to skip the step because I did my research prior to signing up for this site and came to find out that you can claim this discount at anytime, as a free user.
[ws_table id="9"]
A Premium Membership will include the additional features:
Anytime money back guarantee
Send unlimited messages
View all profiles and photos
View enlarged photos
Send unlimited winks
Message free members
Free XXX video content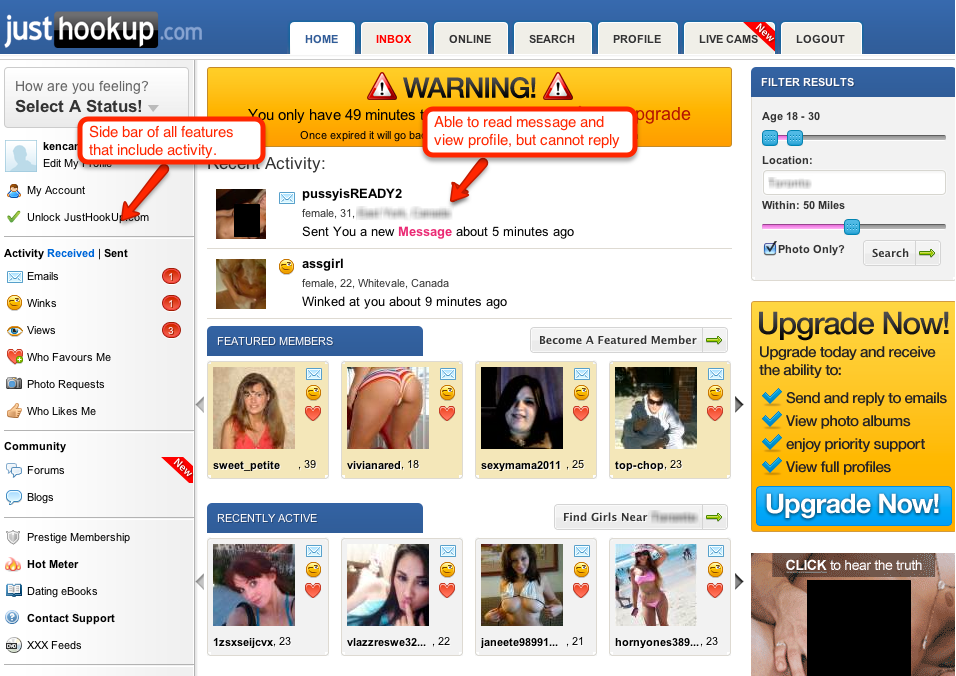 I definitely suggest you skip that step if you don't know for sure if you want to sign up for this site so you can take a look at the goods before buying, so to speak.
On the homepage of your profile you can view a recent activity of local singles in your area. Whether they've "winked" at you or added you to their favorites, you can see all of this sort of stuff right here.
When you go into your inbox you are able to read all of your messages, but you cannot reply unless you upgrade your account. You can easily see "online" members via the top tool bar button. When it comes to searching for members, you can search via a basic search option, by appearance, character, tastes or habits. Once again, you can search for free but cannot initiate contact unless you upgrade.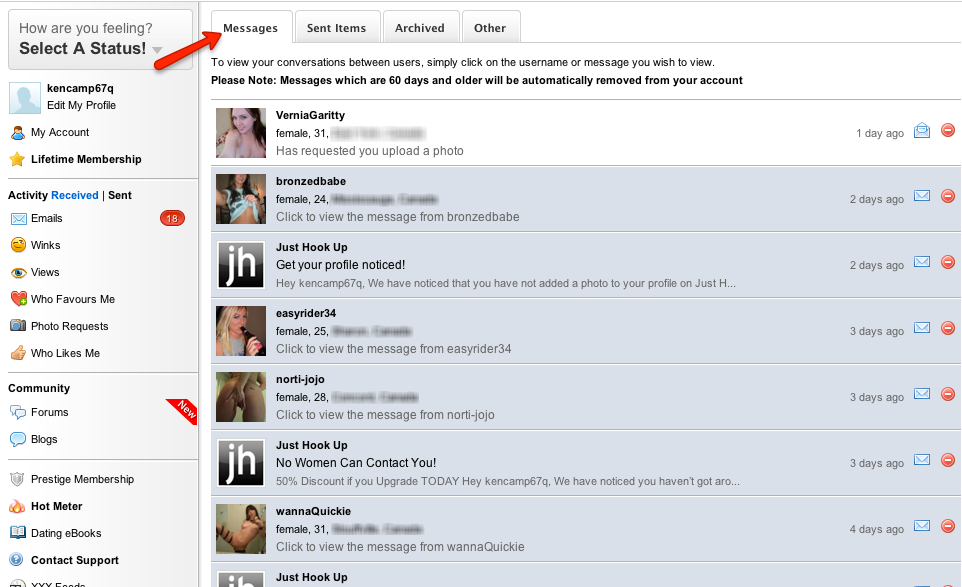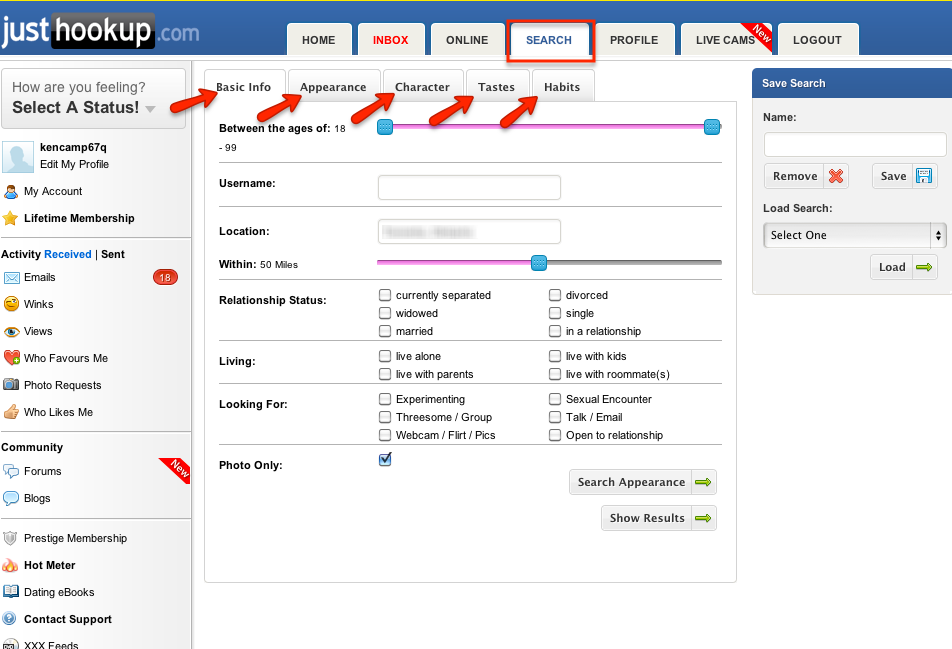 As an upgraded member you can also update a status to let other members what you're feeling like at that moment.
Be prepared for sexual content as soon as you sign in. With Justhookup's unique Naughty N Nice function you have a choice to display explicit photos or not.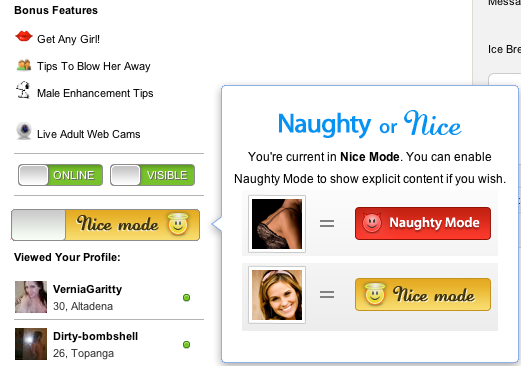 If I were to compare JustHookUp.com to other adult dating sites I would definitely say it's below par and the main reason for this being the fact that it has a way smaller database then other adult dating sites I've reviewed. Since online dating is a huge numbers game, you odds of finding someone on this site are a lot less compared to sites like XXXLove.com that have around 15 million members.
 Let's take a further look at the features of the site, including what I like about the site, and what needs to be improved
Features:
500,000 registered members.
Steps on how to create a better profile.
Upload pictures, browse members and read messages for free.
Must upgrade in order to initiate contact.
Request members to send more photos.
Get a consistent Activity Report on your profile – see you viewed you, sent winks, or emailed.
View the Hottest Members and who's looking at your profile right now, and get new updates through your news feed on the homepage.
Able to turn a safe search on or off.
Read blogs and forums.
Pay extra to watch live sex cams.
Easy to use customer support.
Create/add profiles to your 'My Favorites'.
Participate in chat rooms and view premium adult websites.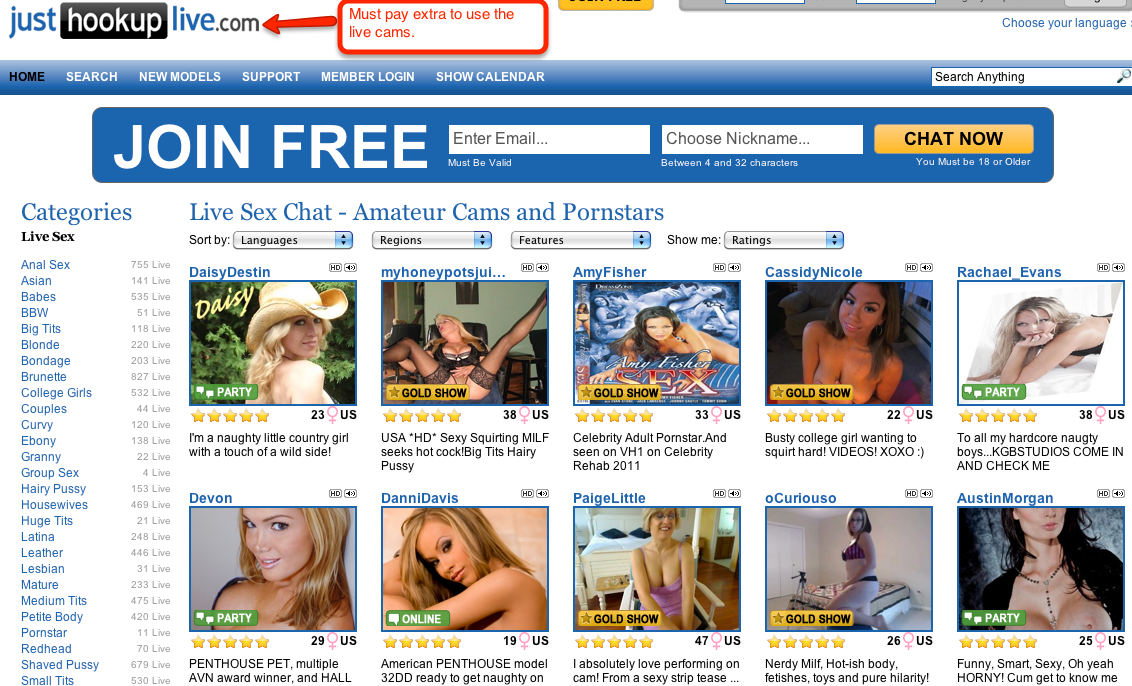 Signing Up:
It will take you less than 10 minutes to complete the sign up process.
You can upload public and personal pictures for free.
You can browse and search for members for free.
You must upgrade in order to initiate contact.
Safety and Security:
There's an easy-to-use large Contact Support button at the bottom of the page along with FAQs. Here you will have access to Live Chat Support and get your questions answered in real time.
You can report any website problems directly.
You can report abuse at any time.
Justhookup encourages members to take all precautions when interacting with individuals you meet or come into contact with through the site.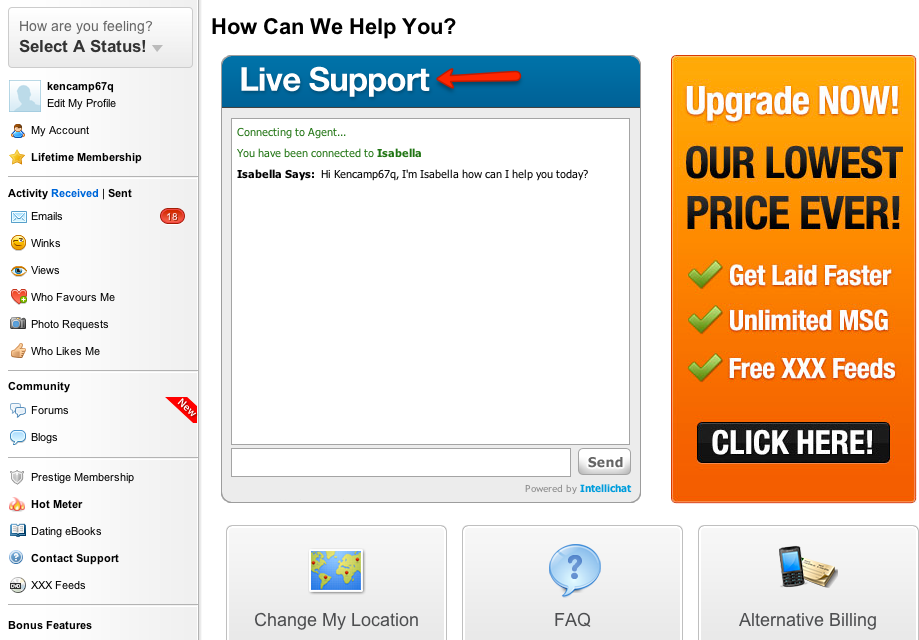 Pros:
The sign up process is incredibly easy.
The layout and design of Justhookup.com makes it easy for users to navigate and browse.
The live chat support if you have any questions as a member.
Cons:
There are awesome features that can't be accessed unless you 'unlock' your membership and pay for an upgrade.
When I was reading the fine print in the terms and conditions I came across some unsettling information regarding the members of the site and the site itself. First off, JustHookUp wants to make it clear that the dating service is built solely for the amusement of the subscribers and most profiles are presented to entertain users. So, basically they don't actually want it's members to hook up in real life, they just want their members to be entertained.
Secondly, they also state that from time to time they may estimate the number of members that are actually on this site. Therefore you can never be sure if there are real members on this site or not. That statement alone would turn me off from wanting to sign up for this site.
To sign up for JustHookup.com, click here.
To read more online dating site reviews, click here.