Review by Ken Campbell
With a large variety of detailed questions and personality quizzes, Match.com stands out as one of the most best online dating sites to meet local singles who are serious about dating. If you are looking to get out there and go on dates with the potential of actually meeting a match that works, then you should definitely consider this site as it is known for being one of the longest running sites, most reputable, and a top choice for online dating veterans who really want to get serious about their online dating journey and find a date fast.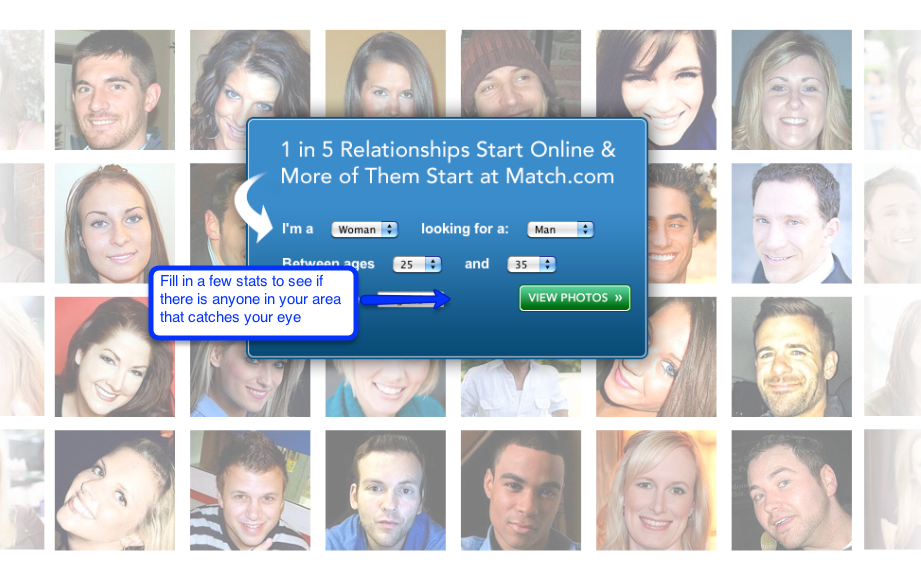 Match.com claims to have about 25 million members worldwide and one of the unique aspects this site has to offer is that fact that the ratio of men to women is pretty equal. On most sites that are similar to Match.com the ratio of men to women can be off by big numbers and that is not good for members. It makes finding someone a lot harder and the odds are definitely not in their favor.
Not only is the ratio good on match, but they also offer a lot of services that are dedicated to helping people on their online dating journey and there to hook members up with lasting and healthy relationships.
[ws_table id="11"]
When signing up for Match, the process can be a little extensive and take a lot longer then some of the other dating sites out there. However, when you are going through the sign up process, you don't have to fill in any of the information essentially, but keep in mind that the more information you reveal, the more appealing you will seem to other members. You are required to write a headline and "about you or your match" that must be more than 200 characters.  You can also upload a profile photo for free. Your profile will then be reviewed and it it's up to par, then you can access your profile.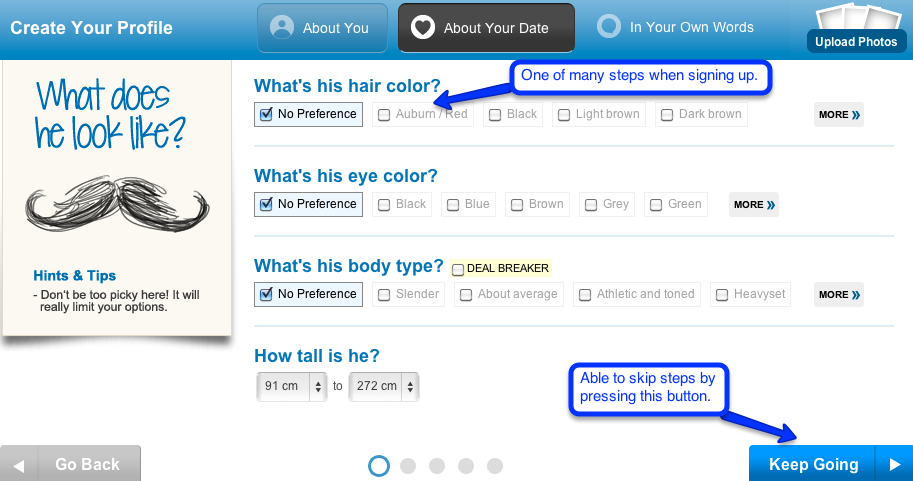 Once you are on your profile, you will find that it's fairly simple to navigate. There is a tool bar at the top with all the features and then a sidebar with your "quick links".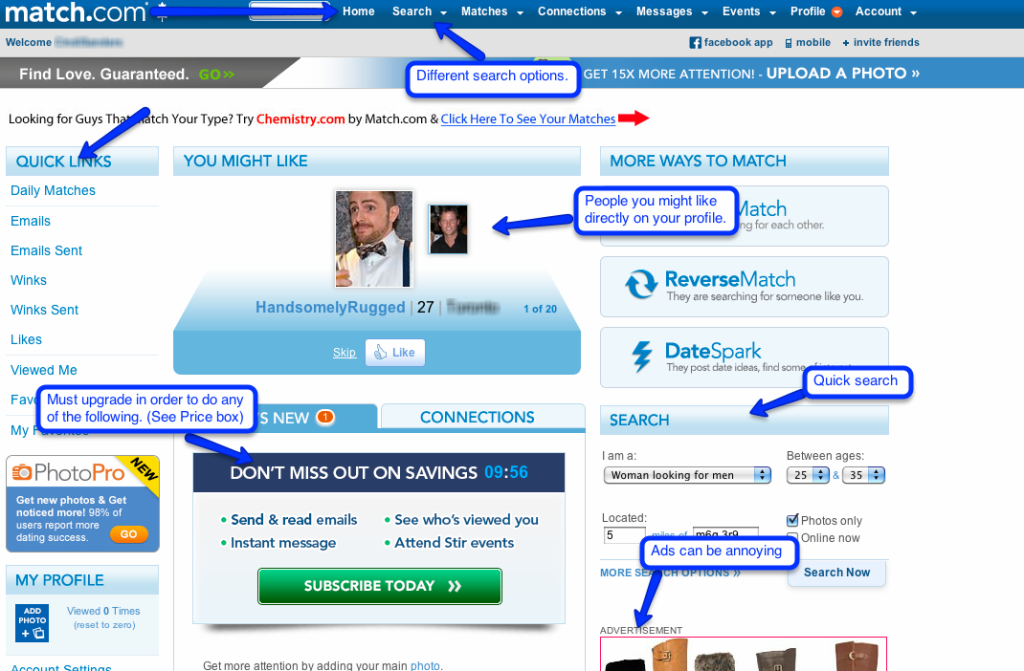 When it comes to searching for a potential match, there are many options available compared to most sites where only a basic and advanced search are available for paid members.
All in all, this site prides itself on offering a unique and top of the line dating service. With all of the different features available and the option to take advantage of matching services, I would say that if you're looking for a good site that has the potential to be successful, Match.com could be a great choice.
Here is a break down of the features of the site, including what I love about the site, and what needs to be improved.
Features:
Database of over 25 million members.
Biggest online database for a mainstream dating site.
Create a profile and upload a photo for free.
Profile reviewed by Match.com and then accepted if it meets the criteria.
Minimal amount of bots and inactive profiles because of the profile review process.
Must pay a monthly membership to use most of the features (see price box).
Excellent and detailed personality tests and questionnaires to help you find the perfect match.
Sent daily matches.
Able to initiate contact via internal email or instant message.
Send and receive "winks".
See who's viewed your profile.
Add members to your "favorites" and see who's favorited you.
Search for members via a basic search, custom search, mutual match, reverse match, or Date Spark search.
Access Match via a Facebook app or mobile app.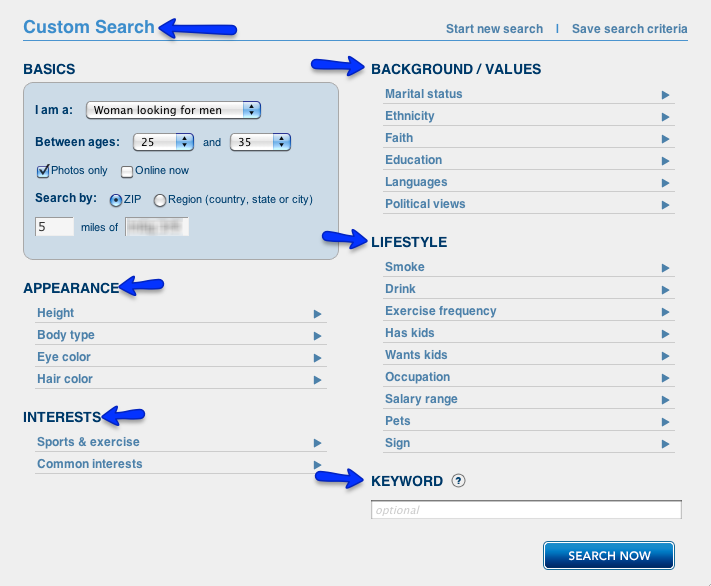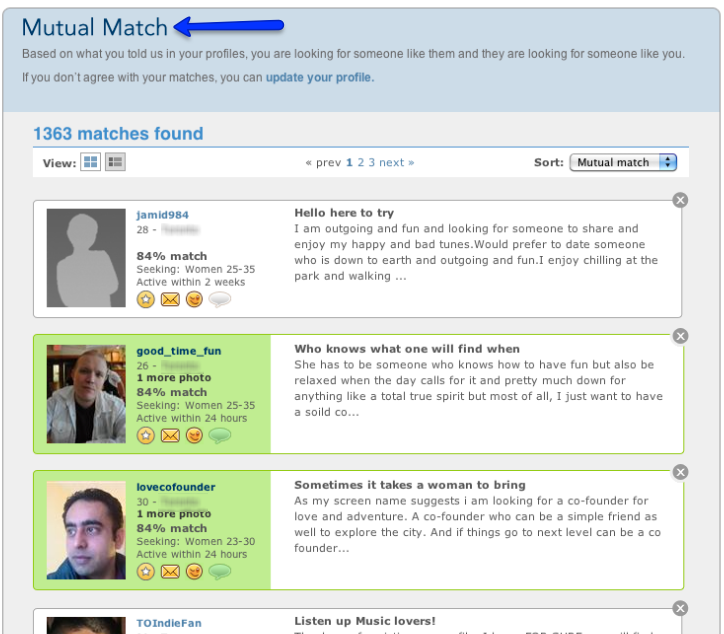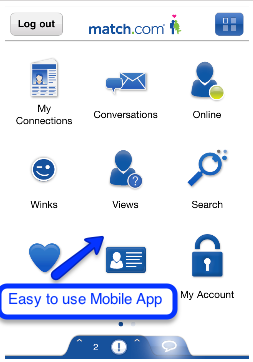 Signing Up:
Signing up can take anywhere from 10-30 minutes, all depending on how much information you want to reveal about yourself and your intentions/interests for the site.
Required to activate your account via email, then it is reviewed. Once you get the okay, you are able to upload photos for free and browse members.
You cannot send or reply to emails with out upgrading your account (see price box).
Safety and Security:
Match.com  makes the safety of its users a top priority.
There are multiple ways to report shady characters.
The site has many creative articles about online dating safety on their blog.
The privacy policy is fairly broad but promises that users can opt out of certain third party marketing from their account settings page.
Pros:
Match.com has the size, budget and user base required to be a good choice for online daters. There are many success stories coming from Match which proves that there is room to find someone on this site.
We love the the sheer volume of information, advice and help that is provided by Match.com. They have a great blog full of great dating tips.
You can find higher quality members on this site.
Cons:
The lack of any instant message or chat feature. This is very unusual for a site of this caliber to not have an option like IM for it's members. That is usually a guaranteed feature when you upgrade a membership. It is also a great way to quickly get to know someone.
Clean up profiles that are no longer in use.
The prices are a little pricey and could be lowered since this site is probably making a ton of money of it's membership prices. A little Un-affordable for the average online dater.