Review by Ken Campbell
Essentially, PlentyOfFish is free. It is unique compared to some of the best online dating sites because you are able to reply and send messages for free. However, there is the option to upgrade your membership on this site, and once you do that, you'll get some extra perks for those people who want to do anything and everything they can in order to be successful. So, when you upgrade to a premium membership you will get the following features:
[ws_table id="13"]
       Show up first on Meet Me!
       Access to Ultra Match.
       See if your emails were read or deleted.
       Experience POF ad-free.
       Find out the date and time someone viewed your profile.
       See who viewed your profile and who voted yes/maybe on.
       Massive increase in emails.
       Number of people viewing your profile triples.
       Stand out in all searches.
       Send unlimited free gifts on email.
       Earn 100/150/210 credits depending on membership to be used for placing gifts on profiles.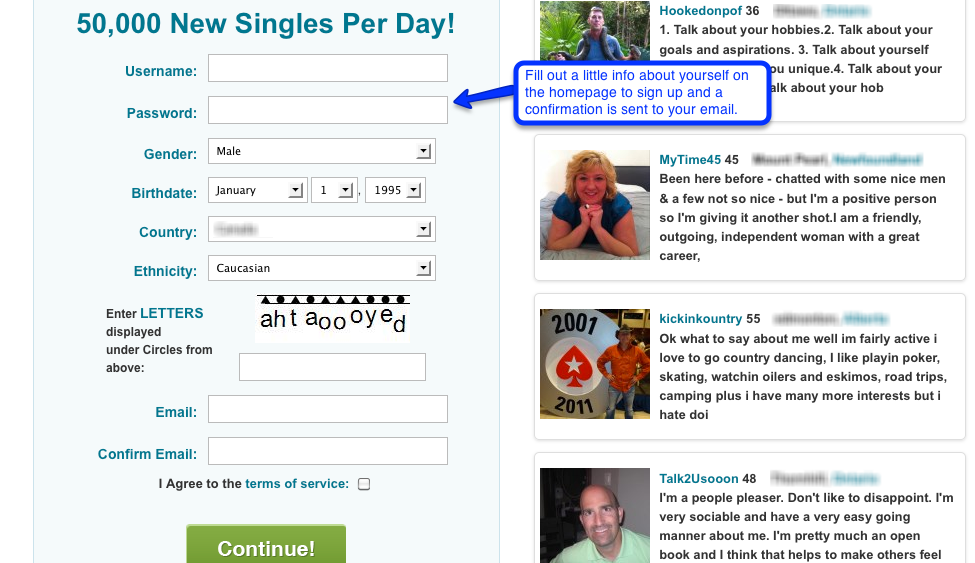 PlentyOfFish.com is usually the "go-to" site for singles who are new to the online dating world. It is a very popular site worldwide, and they have over 40 million members, however it is unsure as to how many of these members are active.
There are many reasons why POF is the "go-to" site for first time online daters; the most obvious being the fact that it's free and if you decide online dating is not for you, you haven't' committed to a membership, so there is no harm to your pocket. The second is that it is easy to sign up, easy to navigate and has all the basics one would need when online dating. On that note, POF is basic, so if you're looking for a more intricate matching system with serious members, this site is not going to be the site for you.
Not only is POF comprised of members who are new to online dating, there are also some online dating veterans on this site along with members who are solely looking for sex and casual hookups. But, you will get to experience all of these "lovely" local singles when you are on your own POF journey, so I don't want to spoil all the fun ;-).
Because POF is so basic, you are required to do all the work yourself, and it can often be time consuming. You have to browse profile pictures, read about their interests and then send them a message. Other sites send you matches based on computer algorithrms, but not POF. Your online dating journey is in the palm of your own hands on this site and if you don't want to put in the work, this site is probably not going to be a good fit for you.
On a positive note, there are a lot of members and POF does have a good reputation, therefore your chances of being scammed by the site itself are slim to none.
Let's take a further look at the features of the site, including what I love about the site, and what needs to be improved to help you decide whether you want to sign up for POF or not.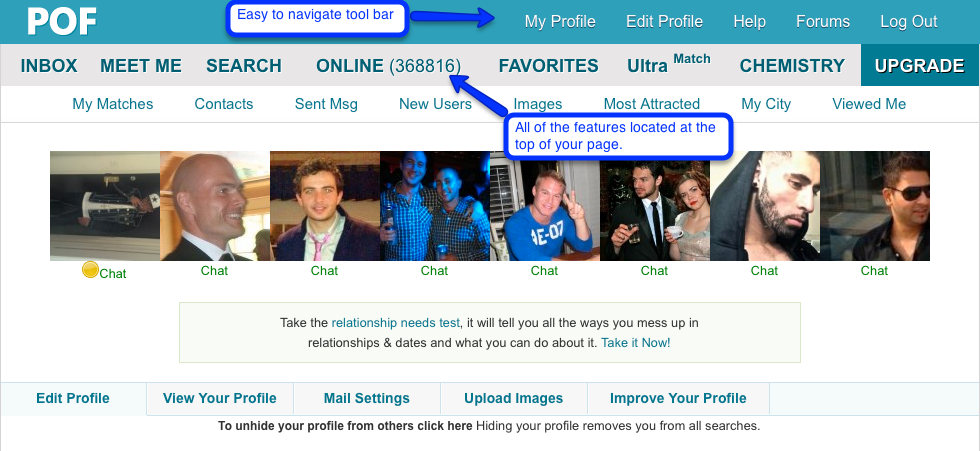 Features:
POF Instant Chat.
Listing of local events.
See current users that are online.
Search via a basic or advanced option including location and username.
See who want to "meet me".
See who's "viewed me"
"Favorite" a profile if you find them special.
POF Relationship Chemistry Predictor: provides over 70 personality questions that will help you find the most compatible match
Tutorials, dating tips, and advice to help you with your journey.
You can increase matches and interactions with POF's Will Respond. This feature will list members with specific interests that can help strike conversations.
Available on android and IOS.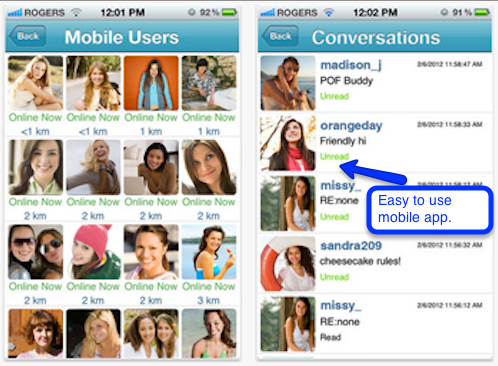 Signing Up:
10-15 minutes to set up profile
Upload photos for free.
Free membership, upgrade optional (see price box).
Be as detailed or general as you'd like for your profile, it's all up to you.
Enter in your zip code/area cod to meet other local singles.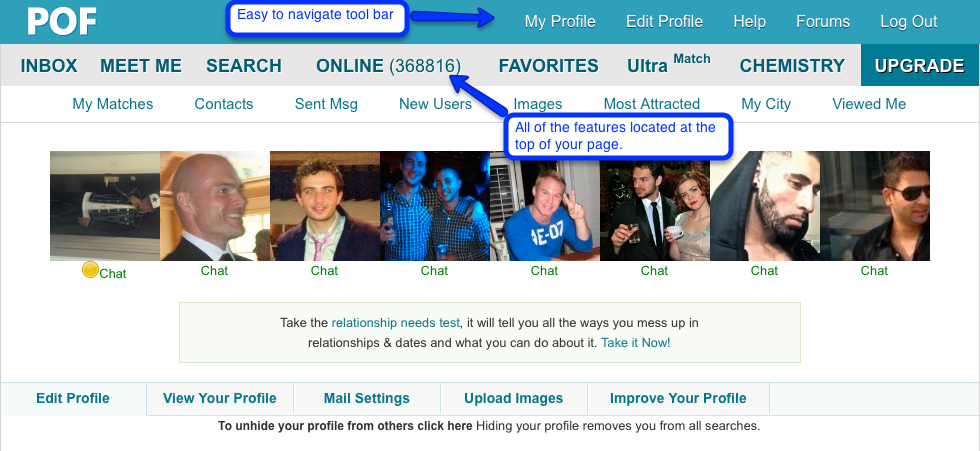 Safety and Security:
Under the Help tab, there is the PlentyOfSecurity tab, which has FAQs regarding POF's site about one's safety and security.
For example, if you are being harassed by an account, you can inform POF of the user and they will directly deal with the issue at hand.
When it comes to your account, it  is private and POF says should not be used by anyone other than you. "You are responsible for all usage or activity on the Service by users using your password, including but not limited to use of your password by any third-party."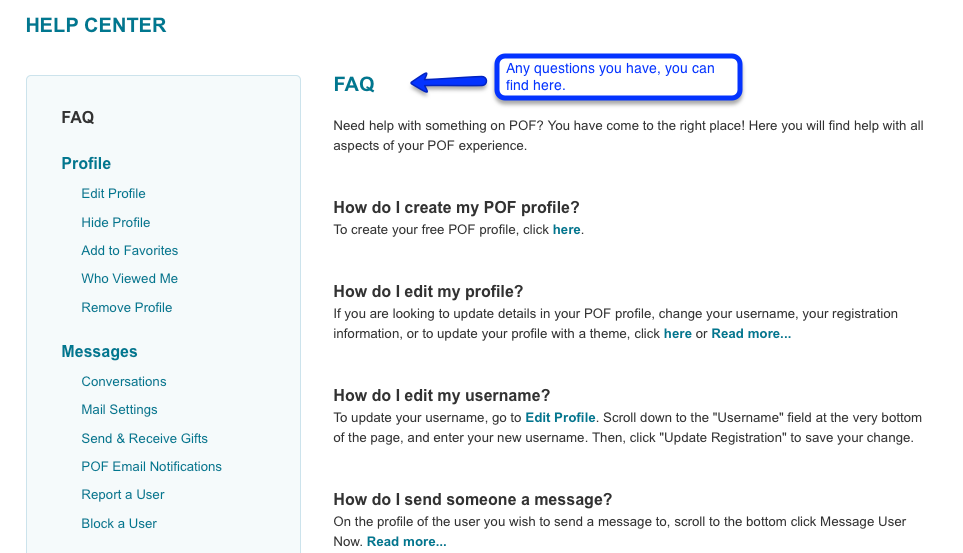 Pros:
PlentyOfFish has a solid reputation and a huge database.
It is completely free, so there is no harm in signing up and trying it out.
Easy to navigate and easy to use.
Able to put in as much time and effort as you prefer,
Mobile app makes dating "on the go" easy for those who have busy lives.
Cons:
Because this site is so basic, there aren't many services available for those who want the work done for them. When you are a member on POF, you are required to do all the dirty work. Sites like Match.com provide excellent matchmaking services, and POF doesn't.
If you are looking for more of a serious dating site, be aware that POF will provide a lot of those who are looking for casual hookups/encounters.
Click here to visit POF.com.