Review by Ken Campbell
If you are looking for an adult dating site where there are minimal features, a very straight forward interface, and an easy sign up process that doesn't take much time or effort, then XDating.com might be the site for you. This is one of the most straightforward and uncomplicated adult dating sites I have ever signed up for, and that can essentially either be a great thing or a bad thing, all depending on what you're looking for. So, let's get into the details.
[ws_table id="10"]
It will literally take you less than 1 minute to sign up. Fill in your email address, write a little bit about yourself and what you're looking for (minimum 5 words) and up load a profile pic (if you desire). Keep in mind, the more information you fill in about yourself, the better chance you're going to have meeting someone on this site.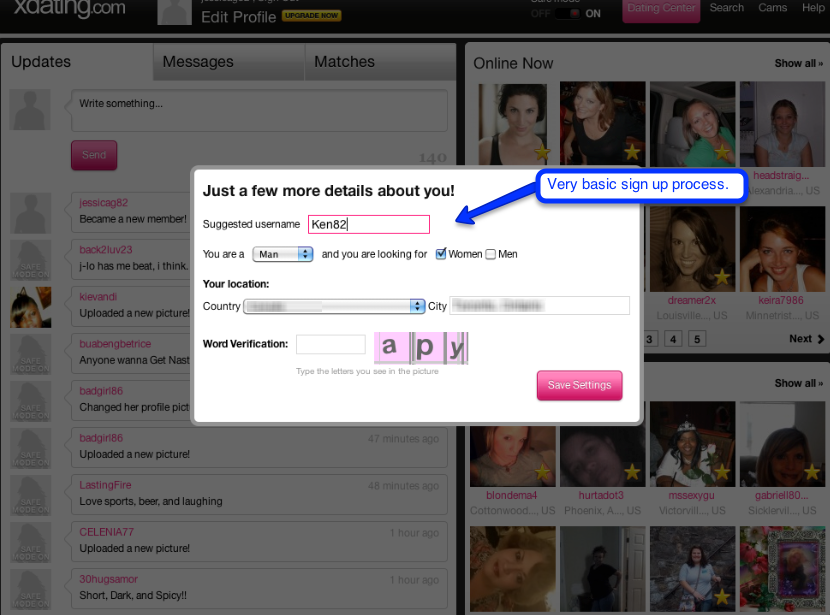 You can easily access your profile by clicking on the "dating center" and you will also find a few other features there, including who's viewed your profile, who's online and who's new.
When it comes to searching for other members, you can access the basic search option easily on your profile, and if you're looking for an advanced search, you will be looking for a long time, because there isn't one. This is definitely one of the downfalls of this site because that just means you will have to spend a lot of time browsing through profiles who are completely uninteresting to you based on your preferences.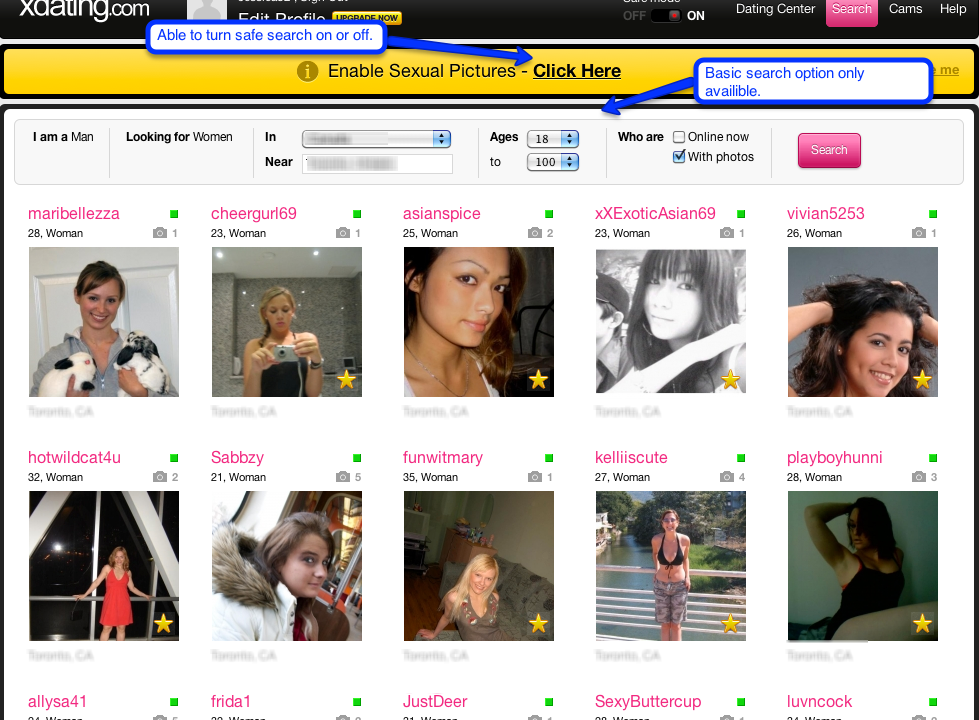 As a free member on XDating, you can do all the browsing you'd like, but you cannot send or reply to emails unless you upgrade your membership (See price box). So, if you want to eventually meet someone off of this site, you're going to have to pay, because there is no way of initiating contact with anyone, unless you pay.
Alike many other adult dating sites, XDating has a reputation for not having a good ratio of men to women members. Many testimonials claim that they amount of male members are a lot higher than the female members, therefore if you're a male you are going to have a lot of competition on this site making it harder to meet women.
Another thing I should mention is the fact that in the Term Of Use, XDating.com states that this site should be used for entertainment purposes only and that there is no guarantee that you will ever meet or even talk to a "real" person.
With that in mind, let's take a look at the features of the site, including what I like about the site, and what needs to be improved.
Features:
Sign up for free, create a profile and upload a picture.
Browse locals members via a basic search.
View videos and chat live in the Cams tab
Get a consistent Activity Report on your profile – see who viewed you, who you viewed, new members and members you like and which members like you.
Get new updates through your news feed on your profile page.
Safe mode switch to either see or not see adult content on profiles.
Send/receive emails to and from interested members.
Search and add to your favorites to 'Matches'.
Easy to use customer support.
View premium adult websites.
Available on Android and IOS for "on the go" daters.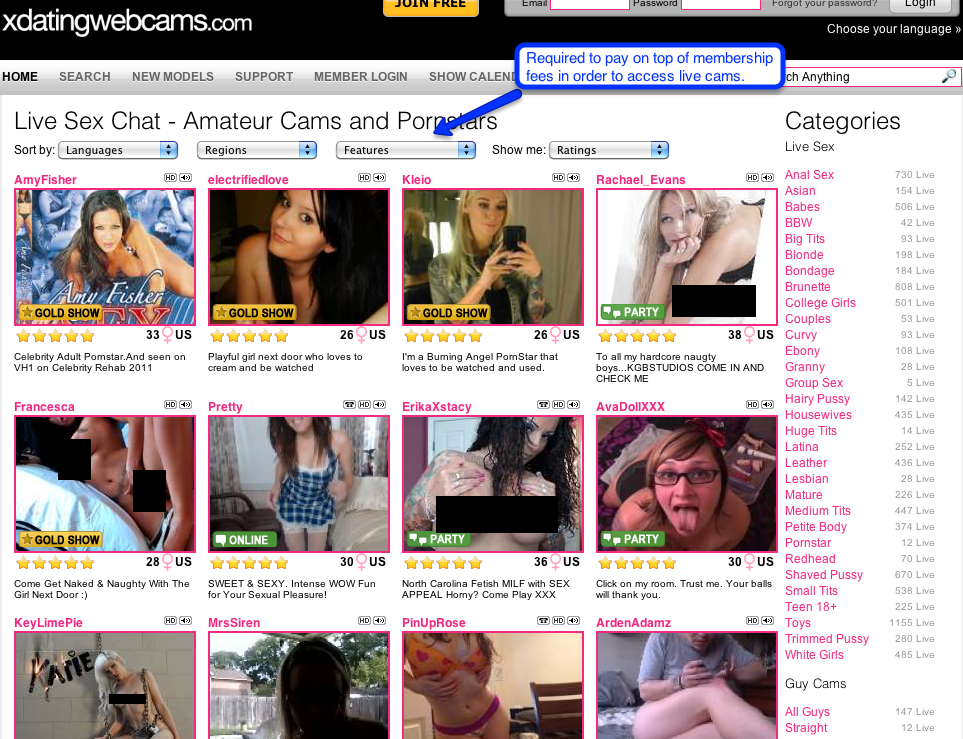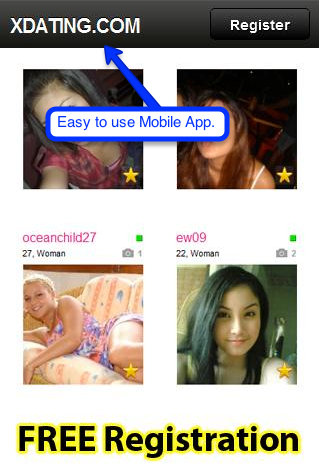 Signing Up:
It will take you less than 2 minutes to complete the sign up process – it is so easy and quick.
You can upload public and personal pictures for free
Able to write a bit about yourself on your profile but you're not required to answer any questions regarding interests, hobbies, etc.
Xdating uses recurring billing which means that they will continue to charge your credit card for the same membership you signed up to originally unless you cancel it.
Safety and Security:
There's a Help button at the bottom of the page which brings you to the FAQs. Here you will have a chance to submit a ticket to their support team. They guarantee a response within 24 hours.
They do not verify the 'validity' of their users – so us this is a warning sign as to the quality of members, whether or not a lot of them are inactive, criminal history, etc.
Another warning sign is that the company will not get involved and will not assist in dealing with any problems with another Xdating member (Section 7, Terms of Use)
They can't guarantee that a paid member will ever have to opportunity to talk to a real person on this site.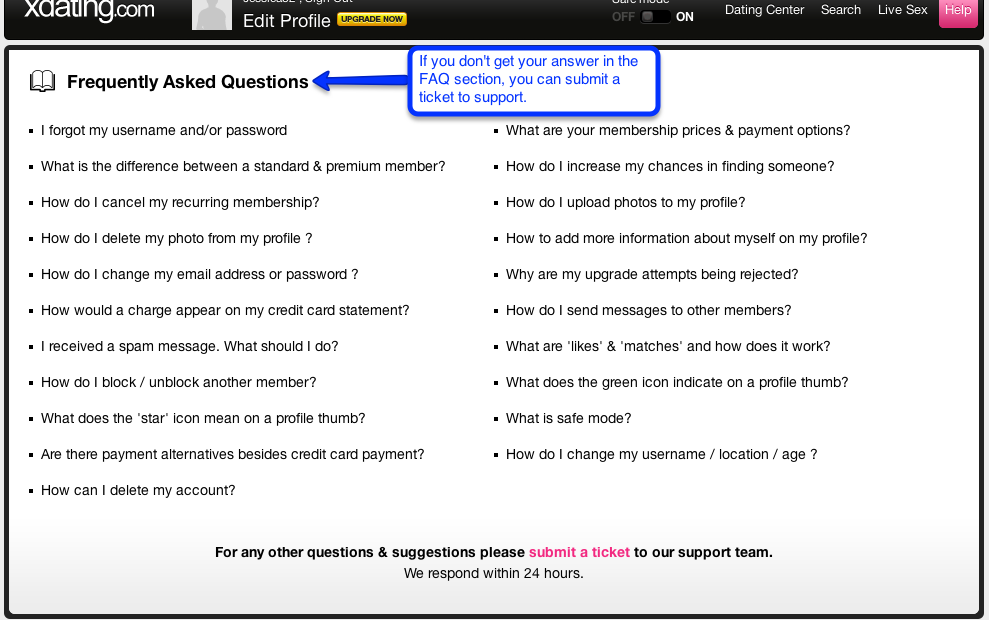 Pros:
The sign up process is incredibly easy and so fast, therefore you don't have to waste any time answering questions you are un-interested in
The layout and design of Xdating.com makes it easy for users to navigate and browse, therefore great for newcomers to adult dating.
The site is quick to load and offers a unique layout.
There have different features compared to other adult dating sites so you are able to connect quickly with other members (Newsfeed updates)
Cons:
There is no instant message option. This is usually a huge selling point to me when deciding on a dating site because it makes the whole process a lot faster and easy because you get instant responses instead of waiting days to hear back from an email.
There is only one search option which can make it difficult for members who know exactly what they're looking for to find someone. You are unable to specify what you're looking for, therefore you just have to browse profiles page by page hoping that someone catches your eye.
Features are limited to non paying members – this should be advertised better.
A little expensive, consider there is the possibility that you will never even talk to a real human being.
To sign up for XDating.com, click here.
To read more online dating site reviews, click here.