Review by Ken Campbell
Zoosk.com is a fairly new singles website that has online been around since it's launch in 2007 but it is growing rapidly and has now become one of the most popular mainstream dating sites for singles who are looking to find a date in their area with members who have similar interests.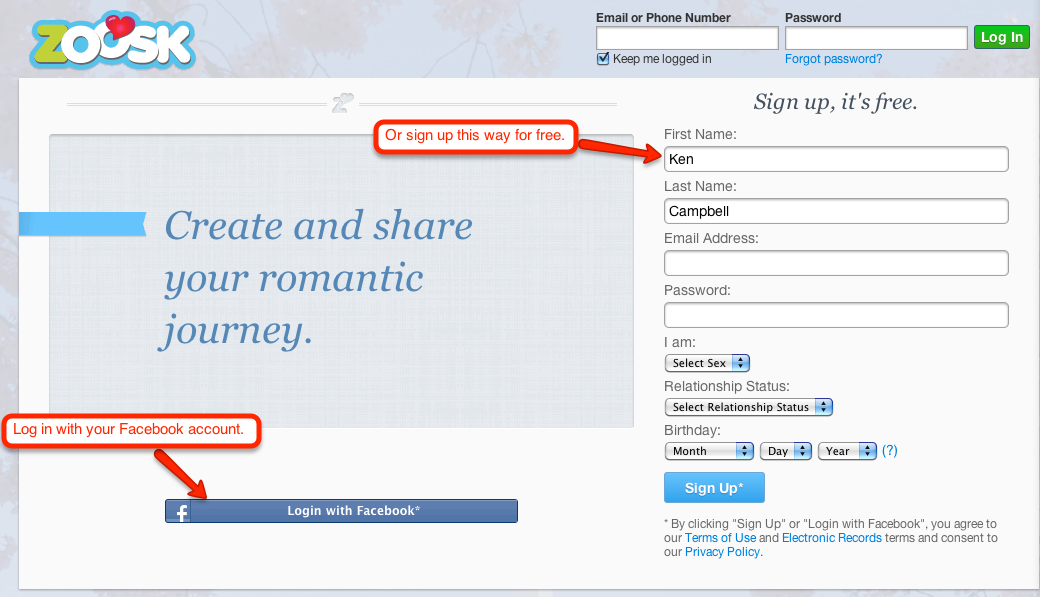 Zoosk has recently reported that they have about 50 million members worldwide and considers itself to be the fastest growing social dating network and community.
[ws_table id="8"]
The reason why Zoosk is considered a social dating network is because of the unique fact that you can log into Zoosk via your Facebook page.
If you choose to use Zoosk via Facebook you can be completely discrete. It's not like your activity on Zoosk will show up on your profile or on the news feed. Logging in with Facebook just makes things easier for you when signing up because all of your information will essentially be transferred over to your profile, therefore you don't have to spend a lot of time uploading photos, filling in interests etc. Also, if you log in via Facebook, it gives you credibility. It shows that you are a real person and that you have real life with real family and friends. We all know that there can often be a lot of fake profiles and robots on dating sites, that's why signing up with Facebook just gives legitimacy and increases your odds.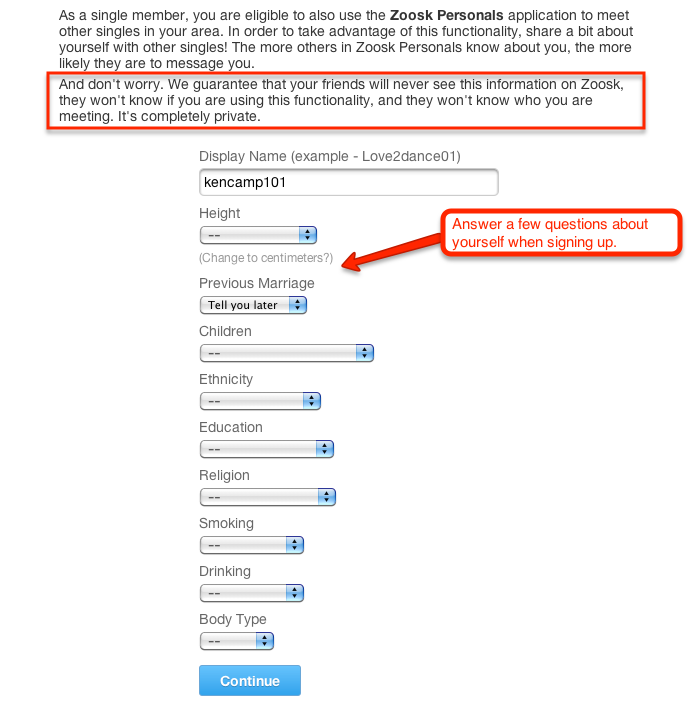 When it comes to the different features Zoosk has to offer, they are pretty minimal and basic, but that's essentially all you need. There isn't a lot of fluff that comes with this site and everything is pretty much straight to the point.
When it comes to searching for local singles, you can use their only search option which is very basic. You can then scroll through profiles until you come across one that stands out.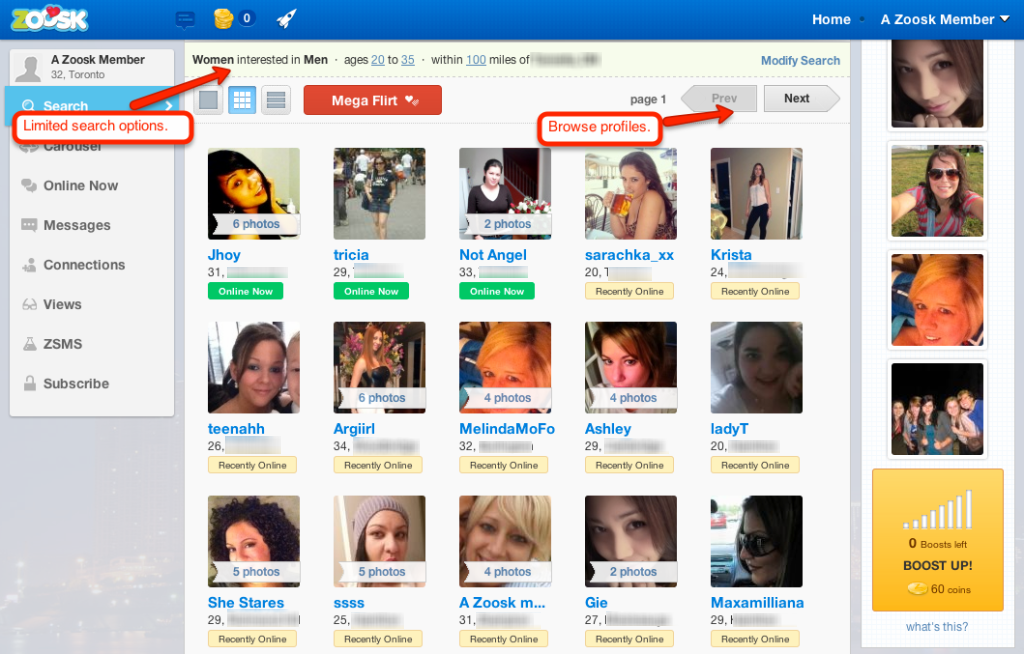 If you are more of a shy dater, you can take advantage of the Carousel feature which makes it a lot easier to show someone that you're interested. Pictures of members will pop up and then you decide whether you want to meet her or not. If you want too, she will get the notification and then will more than likely message you. This feature makes things easy with less pressure.
When it comes to initiating contact with other members you can do so via internal messaging or you can go ahead and download the instant messenger. You can also send "winks" to members you are interested in to break the ice. You can also see who has viewed your profile.
Zoosk also offers a scientific matchmaking service which: "is a patent-pending technology that evaluates compatibility between Zoosk members and makes match recommendations. ZSMS is smart. It learns from "yes" and "no" responses to make better match recommendations in the future."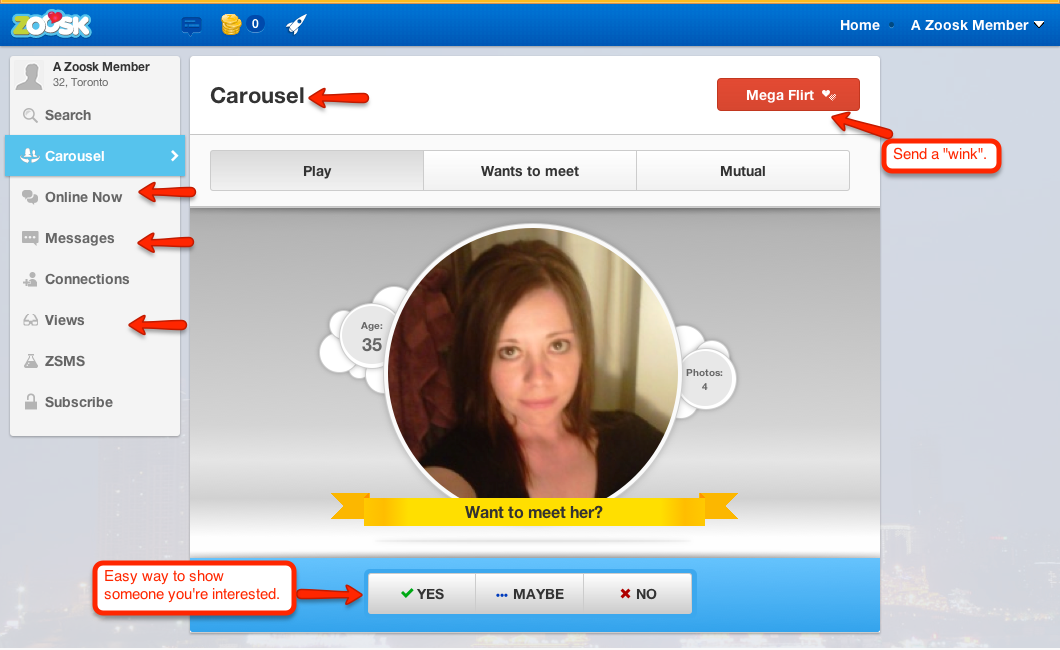 Keep in mind, you cannot use any of these features unless you upgrade your account. This is one of the downfalls of signing up for Zoosk. They make it seem like it is completely free because of the Facebook connection, when really it's not (See Price Box for membership prices).
Here is a break down of the features of the site, including what I love about the site, and what needs to be improved.
Features:
Signing up is totally free.
Zoosk has Facebook and smart phone apps.
Allows you to login through Facebook making it super quick.
As a single member, you are eligible to also use the Zoosk Personals application to meet other singles in your area.
To activate your account you must confirm through an email link.
Get a consistent Activity Report on your profile – see who viewed you, who you viewed, new members and members you like.
Use the carousel feature to show members you're interested.
Send winks and flirts to members you're interested in.
Get new updates through your news feed on your profile page.
Send/receive emails to and from interested members.
Read the blog for the latest in dating news.
Easy to use customer support.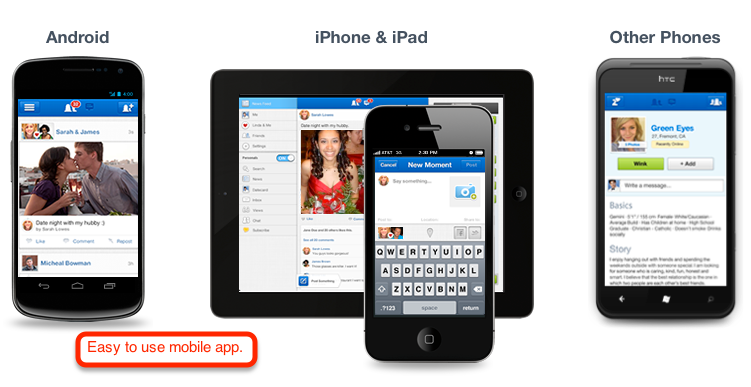 Signing Up:
It will take you about 15 – 30 minutes to complete the sign up process depending on if you fill out everything right away.
The site will send a confirmation email to activate your account – you may have to wait a while for this.
You can upload public and personal pictures for free.
You must upgrade and pay for a membership if you want to initiate contact and use the features Zoosk has to offer.
Safety and Security:
There's a Help button at the bottom of the page which brings you to the FAQs. Here you will have a chance to submit a ticket to their support team. They guarantee a response within 24 hours.
Give them a call at 1-888-939-6675.
Zoosk claims that they do not share your personal information with third parties.
Read up on their own Online Dating Safety Tips.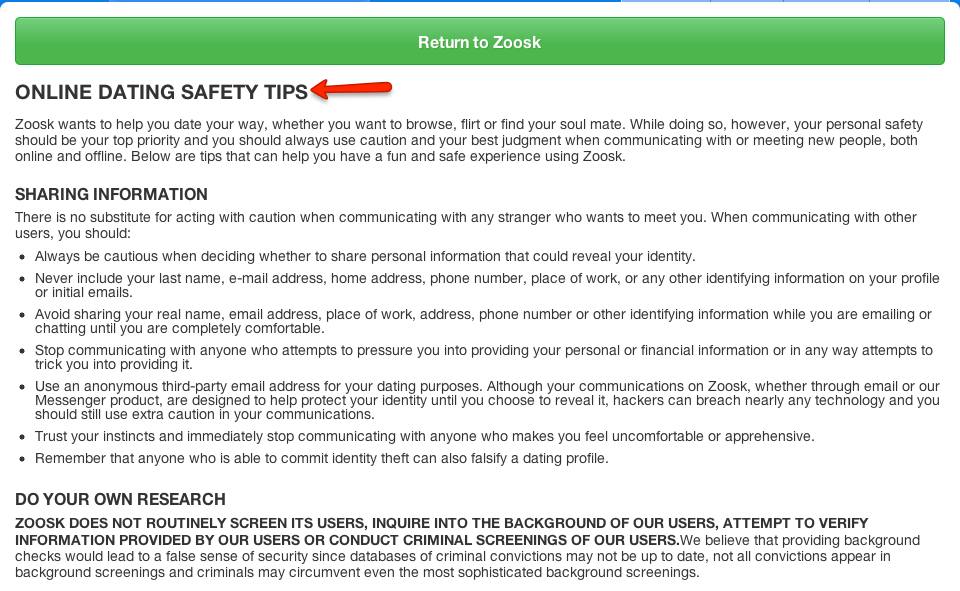 Pros:
The sign up process is easy and offers a few different ways and personality tests to make finding your perfect match easier.
The layout and design of Zoosk is basic and makes it easy for users to navigate and browse.
The ability to connect your account to Facebook.
They have a great design for their mobile app for "on the go" daters.
Cons:
You can only search for members based on their age and location. Browsing through profiles can be really time consuming.
Smaller database then some other popular mainstream dating site therefore your odds of finding a match are less on this site.
They could offer a more extensive compatibility questionnaire to make it easier to find matches via the scientific matchmaking service. Makes you question whether it actually works or not.
Click here to visit Zoosk.com.